I'm one of the lucky mammals who spent a few years of my life in Goddard's MFAIA program with the lovely, whimsical, sassy and irreverent Donna Catanzaro. Her collages are a careful (and never too preachy) blend of political statements and images found in vintage magazines and newspapers. Check out more of Ms. Catanzaro's work HERE.
There are loads of images from ads of the 50's and 60's in your collage work. What about this era motivates you?
It's an era that reminds me of my earliest memories: of watching I Love Lucy reruns with my Mom. In fact, many of the ads remind me of my Mom. I imagine her reading the same magazines, deciding which floor wax to buy, which recipes to cook, dreaming of a new living room set. I grew up rebelling against the 50's conservatism, so it's rather ironic that I use these images, and that's how I use them, ironically. I like the colors, and the exuberance the people in the ads have for the mundane products they worship. And nostalgia is a perfect vehicle for humor. If I staged them in the present day, they wouldn't be as funny.
Feminism, the environment and politics all play a big role in your work. Has this always been the case?
I used to paint, mostly landscapes and then abstract landscapes. But at some point I became frustrated. While the process of painting was emotionally and spiritually fulfilling, I wasn't able to convey humor, politics, or ideas. It seemed selfish to be letting my emotions flow on paper and canvas when there was so much I wanted to say. But I wasn't a skilled enough painter to accomplish it on canvas. So when I started working in Photoshop a light bulb went off. Actually it was more like a pinball machine winning a free game! And I realized I could say anything I wanted using any image I could find.
I love that you incorporate humor into your work and think it's a smart way to address some of the more chaotic/shitty things going on in the world. What makes you laugh?
I love all types of humor, but slapstick and visual humor are my favorite. This past week I've been watching old Jack Benny shows from the '50's. Last week I watched a few old episodes of The Munsters. I admire the old Vaudeville comedians, the Marx brothers, TV shows from my youth such as Get Smart, and Monty Python. Silly comedy that uses visual gags is my favorite.
Where do your ideas begin?
Often it's the theme of a show I want to enter, and I'll sit down and brainstorm on that theme. Sometimes it's something I hear on NPR or a factoid I come across on the internet that gets me going. Sometimes I'll come across an interesting, funny image browsing through one of my old magazines, or on the Internet, I'll see a weird picture and think, oh I have to do something with that. The food Mandalas were influenced by witnessing a group of Tibetan monks creating a sand mandala at a local library. It was mesmerizing. Then a couple of days later I found myself working on a community mandala project, and then a couple days after that I was invited to friend a mandala site on facebook, and I thought, the universe is telling me to make mandalas! I must make one! So I try to let the inspiration come from anywhere, including the little voices in my head.
Continued below...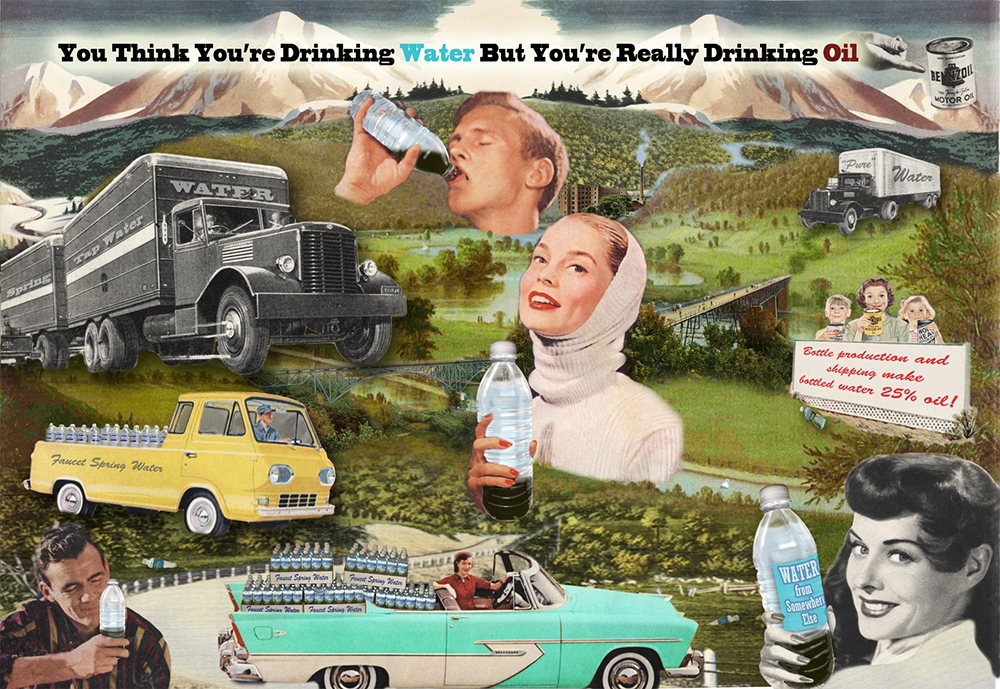 Do you have a daily art practice?
Yes, I force myself to sit in front of the computer and accomplish something. If there's a deadline looming, I may work all day. If not, maybe just a few minutes. It's hard to do, there are so many distractions, but I always feel better after I accomplish at least a little bit of artwork every day.
Digital or analogue?
Entirely digital these days, though I often make rough sketches to brainstorm and plan out my designs. I would love to start drawing again, I really miss it.
What are you reading?
I just started "Transatlantic" by Colum McCann. Before that I read "Five Days at Memorial: Life and Death in a Storm-Ravaged Hospital" by Sheri Fink. I prefer non-fiction, especially books about history.
Describe your everyday ritual.
Wake up at 6:30, drink coffee and stare into space (my form of meditation), check email, get distracted by facebook, eat oatmeal, yogurt & fruit for breakfast, work on artwork or freelance graphic design or something on the computer (today it was taxes, yuck), more distractions, lunch, outside exercise activity on a good day (walk, snowshoe, bikeride…), afternoon tea and chocolate, practice ukulele, projects around the house, more sitting in front of the computer updating my website and other internet distractions, dinner, watch something on Netflix or read, in bed at 10. A lot of sitting in front of the computer and way too many distractions!
Food is another focal point in your collages. How has this influenced your own eating habits?
I LOVE food. It's my favorite thing in the world and I love the photos in old cookbooks. I cook with the same cookbook my mother used, a 1960 version of Betty Crocker, or one of the old cookbooks I've collected or inherited from her. I feel like I'm channeling her when I cook with them. I like ordinary food, the food of my childhood: pasta, fish, meatloaf, mashed potatoes, blueberry pie. I like to eat food from the past, wholesome homemade food without chemicals.
What is on the top shelf of your refrigerator?
What a great question! Eggs, yogurt, coffee, hummus, cottage cheese, a can of lemon-lime seltzer, and dried apricots.
Influences?
Some influences that come to mind are Hannah Höch, John Heartfield, James Rosenquist, Martha Rosler, Barbara Kruger, current artists such as Sally Edelstein and one you turned me on to: Eugenia Loli.